HeadSmart Campaign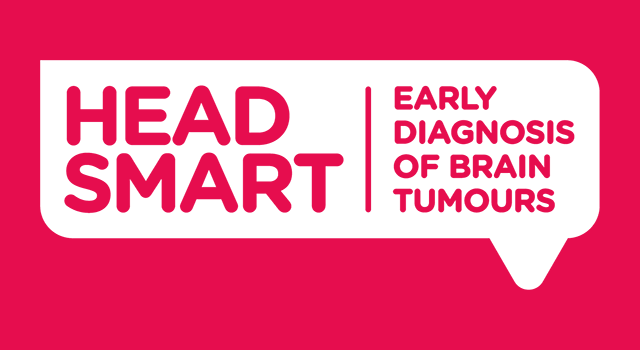 About HeadSmart
HeadSmart is an award winning campaign, raising national awareness of the common signs and symptoms of brain tumours in children and teenagers.
10 children and teenagers are diagnosed with a brain tumour every week in the UK, that's more than one a day.
HeadSmart's goal is to reduce average diagnosis times of brain tumours to four weeks or less in line with NHS targets.
Identifying tumours early reduces the chance of a child developing long term disabilities and can ultimately save their life.
Brain tumours are the leading cause of childhood cancer deaths in the UK - 58% of children aged 0-14 are diagnosed with a high grade brain tumour as an emergency.
HeadSmart Symptoms Cards
To help raise awareness HeadSmart have created pocket sized symptoms card lists the most common signs and symptoms associated with a brain tumour across the three age categories: babies, children and teenagers.
You can download a PDF version here: HeadSmart Symptom Cards (PDF) [1MB]
By raising awareness of the signs and symptoms, the campaign aims to reduce these figures. You can download additional resources from the HeadSmart website including posters and a symptoms diary.
Babies under 5 years
Children aged 5 - 11 years
Teens aged 12 - 18 years
Lancashire councillor's bid to raise awareness of brain tumour symptoms in children after losing her teenage son
When Councillor Anna Hindle's son, Tim, was sent for an MRI scan in 2018, she had a mother's instinct that something was seriously wrong.
Anna, who was elected as Lancashire County Council Labour representative for the Preston East division and Preston City Council's Labour representative for the Ribbleton ward, recently relayed the painful details of her loss to her new colleagues during a full council meeting at County Hall.
She was appealing for their support in helping to raise awareness of the symptoms of brain tumours in children and teenagers, telling fellow councillors of the "awful moment when a team of medical professionals, take you into a room and ask for your consent to turn off the life support machine, because there's nothing more they can do".
You can read Councillor Anna Hindle's full story on the Lancashire Evening Post website.
HeadSmart Accolades
HeadSmart is an award winning campaign, receiving accolades from the following:
National Lottery Awards - Best Health Project 2017
AMRC Science Communications Award 2014
NHS Innovation Challenge Prize 2013
Third Sector Excellence Award 2013
Charity Times Award 2013
QiC Excellence in Oncology Award (Highly commended) 2012