How Let's Grow Preston delivers for Preston's Communities
27 February 2023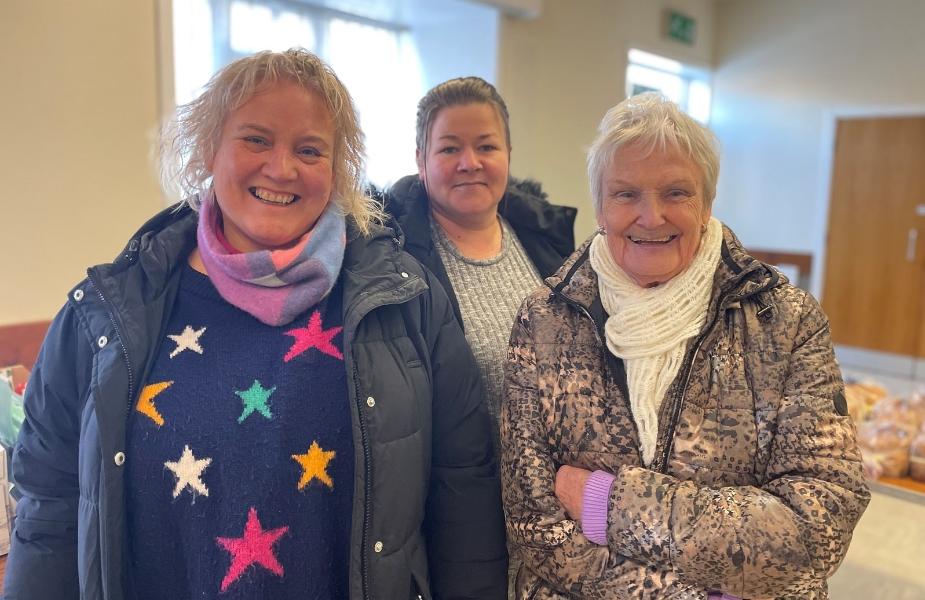 On a cold and frosty morning, we accompanied Annie Wynn, BEM, as she went out on her weekly round to collect food and deliver it across Preston to see exactly how the community works together across the city.
We met Annie, Development Director of Let's Grow Preston, the award- winning charity that provides a network to help support communities and members by sharing resources and materials to help grow together, at the Walled Garden on Ashton Park.
Despite the frost, the sheer size of the garden beds was impressive. Just across from this is a warm office from where all the magic happens and a brew is always on offer.
In her trusty white van, Annie set off to her first destination on the Red Scar Estate, to collect cages of food from FareShare, the UK's biggest charity fighting hunger and food waste.
We received a very warm welcome from volunteer Kevin who directed us to the cages of food - surplus items donated by major supermarkets - good food, which would otherwise go to waste.
More than 9,500 UK charities and community groups receive food through FareShare. Last year, the Preston depot redistributed 1000 tonnes of food - the equivalent of 2.8 million meals. The majority of that food was fresh fruit and veg along with meat and dairy, all bought at £1 per tray.
Kevin is retired and volunteers with FareShare two days a week. He said:
"Volunteering here a couple of days a week is the right thing to do during these times. I feel that it's an important to do my bit for the local community."
Surplus food also comes from Neighbourly, an award-winning giving platform that helps businesses make a positive impact in their communities by donating volunteer time, money and surplus products, all in one place.
On this day, Annie is collecting food for the Farringdon Park Community Centre. The centre already supports the community in a variety of ways.
We head to Farringdon where we, and some of the Community Centre staff, offload the goods which includes orange peppers, tomatoes, sausages, potatoes, turkey rashers into the main hall where other items are also displayed on a number of arranged tables. When the hall opens at 12.15pm, for the Tuesday Food Club where locals pay £3 and can select various items.
Andrea has been a member of the local community for nearly 40 years. She was waiting at the centre for the hall to open. She said:
"This food club helps a lot and I would struggle without it, especially as I am diabetic and gas and electric is so expensive. I have to go to bed early each night so I can turn everything off and keep warm under the covers.

"You can't guarantee which foods will arrive each week and sometimes things have short 'best before' dates, but you can usually put items together to make some meals which I often freeze to make them last longer."
As the food is arranged ahead of opening Dot Halliwell who manages the Centre, said:
"We get the food delivered once a week. Sometimes the food isn't suitable to make full meals. For example, we may get a surplus of cream or receive no meat and in these cases we will use part of our community grant to buy what we need.

"We also receive donations of useful items, such as tinned items or items with damaged packaging from Morrison's at Deepdale which helps to boost our stock of items we can offer our users.  Also, whilst we serve around 20 - 25 families and senior members of the community, on our Food Club Day - to avoid waste - any surplus chilled foods, fruit and veg are distributed to other groups and those attending other sessions on subsequent days of the week.

"Our visitors are grateful for this support. The food usually goes in 45 minutes. Some people feel embarrassed to come along, even though they need help, but we are a friendly bunch and there is no judgement here."
The Community Centre is also open for people to also come and sit and chat together and many see it as a social club. Regular events include an over 55s craft club, bingo nights, seasonal parties and community get-togethers. There are also activities held here for the younger community with a regular youth club. A breakfast club each Wednesday offers a full English breakfast at subsidised prices.
Anna Hindle, who is also a councillor for Preston City Council, helps regularly at the Centre. She said:
"On Monday, I collect surplus food from Broughton Co-op from 9pm at night and Dot collects surplus food from Deepdale Morrisons. These other sources really help to provide some variety of food products.

"We all know each other at the Centre, but we still want to connect with the hard-to-reach people we know are in our community. I know that some people feel a stigma in using food support but when people get here and see how friendly we are they do relax. We ask no questions and accept everybody."
If you are interested in donating or volunteering, please visit the Lets Grow website for more information.
Picture Captions
Main Image - Anna Hindle, Emma Clayton and Dot Halliwell at Farringdon Community Centre
Annie Wynn BEM in the Walled Garden.
Volunteer Kevin at the FareShare depot,
The Let's Grow van gets filled with food for delivery,