Volunteers required for Sue Ryder
4 July 2023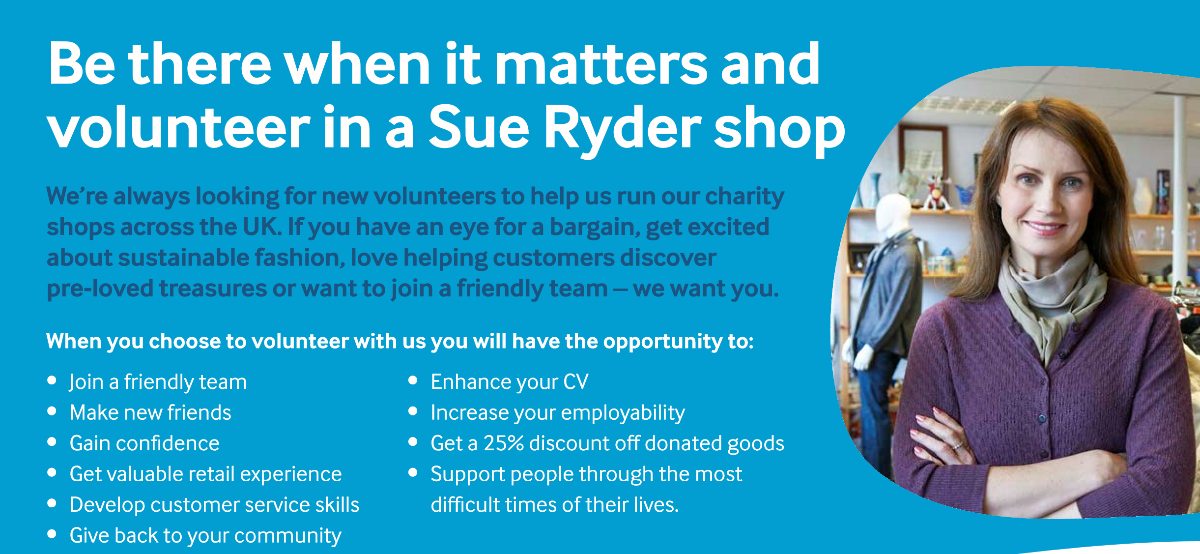 What Sue Ryder does
Sue Ryder supports people through the most difficult times of their lives. Whether that's a terminal illness, the loss of a loved one or a neurological condition - we're there when it matters.
We care for people with complex conditions in our hospices and neurological care centres, and we also provide care in people's homes, in the community and online. Our doctors, nurses and carers give people the compassion and expert care they need to help them live the best life they possibly can.
Sue Ryder retail charity shops
Volunteering in our charity shops is a great way to learn new skills, meet people and support Sue Ryder to be there when in matters.
Our Retail Charity shops across the country support local communities by involving local volunteers from all backgrounds to become a part of our shop teams with a range of flexible opportunities to make a difference.
We provide training, as well as a a safe place to build confidence, friendships and become a part of a fun team contributing to better mental health and reducing social isolation.
In terms of healthcare, we know that everyone, regardless of diagnosis, wants to make their own choices about their care. They also want to know they are supported and that what's important to them and their family is taken into account.
We care for people with very complex conditions in our hospices and neurological care centres, and provide care in people's homes and in the community. We look to use our experience to influence commissioners and policy makers, as well as partners from other health providers.
We have transformed in the last three years to create a more efficient and effective organisation. Over the next five years, we want to change the way we provide services.
For both our end of life and specialist neurological care, we will increase our community-based nurses to provide more community-based care. We'll also invest in and take advantage of new models of care.
Our strategic aims
Over the next five years we will work on two strategic aims:
Provide care and support for more people
Influence new models of care across the UK
How to volunteer for Sue Ryder?
Sue Ryder currently have a limited number of volunteering roles in their centres as they start to welcome back teams, but you can still search for an opportunity near you and register your interest for the future.